Beginner photographers who desire full control over images should consider these three cameras. Rich in features and when you reach a certain level of quality, it is often the lens that matters more than the camera itself.
The cameras below are great models to get excellent image quality and features with reasonable price.
Nikon D3300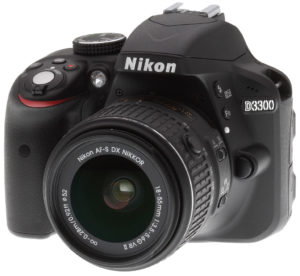 Nikon D3300 is not the most expensive beginner camera, but it is the best. This DSLR camera has 24.2 megapixels, a screen of 3-inch fixed and a video resolution of 1080p. The camera's 24.2-megapixel sensor produces decent results at higher sensor sensitivities.
Nikon D3300 gives access to a range of manual controls that allows users to set up their photographic game, while the guide mode offers sample images and clear step-by-step instructions. It also shows you how to shoot all sort of images you might be wishing to capture.
The body of the camera is almost identical to that of Nikon D3200 except for a few tweaks. It is light and a bit plastic with a deep comfortable grip. The mode dial serves up the typical assortments of automatic, semi-manual and manual modes, plus an Effects mode and Guide mode. Guide mode offers easy operation that provides a limited number of options. It also has an Advanced mode that describes appropriate settings for the chosen scenario and then lets you change the settings yourself. Nikon D3300 has a programmable Fn button that allows you set it to control the ISO sensitivity, image quality, and the Active D-Lighting menus.
The Nikon D3300 costs $446 on Amazon.
Canon EOS 750D (Rebel T6i)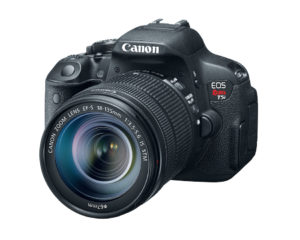 For gorgeous, high-quality videos and photos that are easy to share, consider buying the Canon EOS Rebel T6i. The camera makes capturing photos and shooting videos a breeze.
Canon 750D has an updated light-metering system meaning well-exposed images. It is also the first ever for the EOS Rebel line to feature built-in NFC and Wi-Fi. Wireless connectivity provides an easy way to exchange videos and images with compatible devices no matter what location.
The NFC mode allows for easy pairing with compatible Android handsets and Canon's new Connect Station CS100 device. The Canon 750D can use a 19 cross-type point autofocus system when shooting to ensure accurate and fast focusing. It also features Hybrid CMOS AF III, which offers smooth focusing and object tracking.
The camera costs $749 on Amazon
Pentax K-S1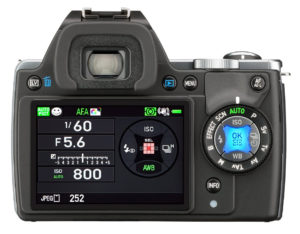 This is a modern looking DSLR camera that can be easily mistaken for a mirrorless camera. The camera is designed for those who are familiar with taking photos through tablets and smartphones but because they aren't satisfied with the image quality and features provided by the gadgets.
One of the main advantages of using this camera is that you can use the lens that were originally made for the 35m SLRs. It has a 20-megapixel APS-C CMOS sensor which is capable of shooting some of the sharpest images in this category and an ISO rage of up to 51200 and busting shootings up to 5.4fps.
The Pentax K-S1 with a 18-55m lens costs $370 on Amazon